Starting is good, starting is fun ... but if you keep starting, things never get DONE!!

I am determined to clean up all my WIPs fairly early this year so that later on I can work on gifts and such. I took photos of most of my WIPs ... some don't even have needles because I needed them for something else and had to put the project on stitch holders or waste yarn ... how sad is that?!?!
These are listed in no particular order, but I would like to finish them up before starting anything else! I also have a sweater I am working on for a friend's child, he will turn one mid-February. Another one not pictured here is an afghan that was the first project I started in Sept. 2006 that is also a UFO.
Project:
Ted's Scarf
Recipient:
For boyfriend
Yarn:
Encore DK, Ultra Alpaca Light & Jo Sharp DK
Pattern:
Odd Ball Knitting (book)
Notes:
My boyfriend wanted a Dr. Who type scarf and I found this pattern, which uses several different colors and length stripes, but also has a stitch pattern on it, which I wanted to break up any monotony. Finishing this up would also help clean up some stash since this uses 12 kinds of yarn, LOL!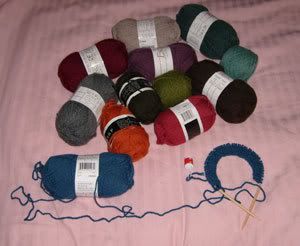 Project:
Reversible Cable Scarf
Recipient:
Self
Yarn:
Ultra Alpaca (3 skeins)
Pattern:
Cables Untangled (book)
Notes:
This was originally for my boyfriend, but he preferred the one above, so I will keep this one myself (I love alpaca anyway).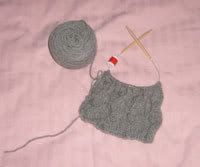 Project:
Peppermint Twist Socks
Recipient:
Self
Yarn:
Tofutsies
Pattern:
Knit 'N Style Magazine
Notes:
I started this sock to try socks on two circular needles. Its a fine pattern and I like the yarn, but it was put aside while I started other projects.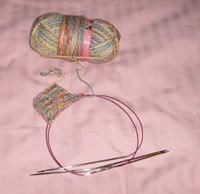 Project:
Menehune Socks
Recipient:
Self
Yarn:
Crystal Palace Panda Cotton
Pattern:
Crystal Palace (website)
Notes:
I got this yarn in a recent swap and wanted to start using it right away, so I went on to the Crystal Palace website and found a pattern.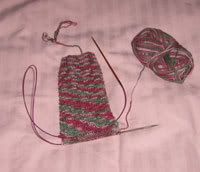 Project:
Monkey Socks
Recipient:
Self
Yarn:
Socks that Rock
Pattern:
Cookie A.
Notes:
I have had this yarn in my stash since Oct. 2007 and was looking for the perfect pattern for it - I really need to stop that otherwise I never use my sock yarn - I did see many people have used STR for Monkey socks and so that's what I am doing now!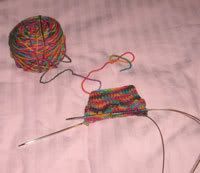 Project:
Jaywalker Socks
Recipient:
Self
Yarn:
Opal
Pattern:
Grumperina
Notes:
I jumped on the Jaywalker bandwagon once I saw someone else used this Opal stripe yarn for that pattern. I love the pattern and the yarn is nice, not sure why these went into the UFO box.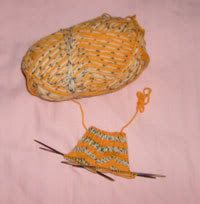 Project:
Hoodie Scarf
Recipient:
Mom
Yarn:
Patons Shetland Chunky
Pattern:
Knit Simple Magazine
Notes:
This is a Christmas gift for my mom. I bought the yarn in December and told her it wouldn't be done by Christmas. I want to finish it up my March.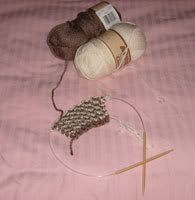 Project:
Drawstring Bag
Recipient:
Self
Yarn:
Skacel Meditation
Pattern:
Creative Knitting Magazine
Notes:
This was one of the first knitting in the round projects that I started. The yarn is Meditaiton which is infused with lavendar, so its really cool to knit with.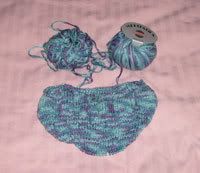 Project:
Art Yarns Socks
Recipient:
Self
Yarn:
Art Yarns Handpaint
Pattern:
Art Yarns (comes with yarn purchase)
Notes:
This yarn is just delicious. It is so soft and squishy. These are toe up socks and the pattern is provided with the yarn.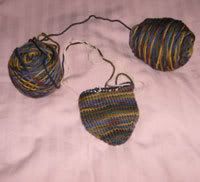 Project:
Alpaca Matrix Scarf
Recipient:
Self
Yarn:
Frog Tree Alpaca & Bernat Matrix
Pattern:
Seen at LYS
Notes:
I saw this scarf at my LYS and wanted to make one myself. I haven't worked on it in a while ...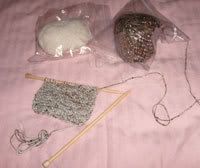 I also wanted to update my Sock Yarn Stash List since I added to it recently.
1. Knit Picks Essentials - Dusk
2. Knit Picks Essentials - Pine
3. Knit Picks Essentials - Meadow Multi
4. Knit Picks Essentials - Peacock Multi
5. Knit Picks Essentials - Carbon Twist
6. Knit Picks Essentials - Volcano Twist, Black and KP Palette White (for Bucanneer Booty)
7. TV Yarn - Medium
8. TV Yarn - Bride of Frankenstein (Bellatrix)
9. Cherry Tree Hill - Maple Sugar (Fawkes)
10. Knit Picks Palette - Sky
11. Knit Picks Memories - Rocky Mountain Dusk
12. Trekking XXL
13. Berroco Sox #1476 (Marion Socks)
14. Berroco Sox #1474
15. J. Knits - Kansas (Firestarter)
16. On Your Toes
17. Wisdom Yarns - New York
18. Alpaca Socks - Fruit Salad (Purls and Lace Socks)
19. Tofutsies - #801
20. Sockotta #505
21. Regia Jacquard
22. Regia Spirit Socks that Rock - Fire on the Mountain
23. Crystal Palace Maizy - Iguana
24. Pattons Classic Wool - Harvest (Winter Socks)
25. Sunshine Yarns - Wildflower
26. Ranco Multy
27. Wildfoote - Sonatina
28. Clown - Pastel Blue/Pink/Green
29. Koigu
On the needles:
1. Socks that Rock - Monkey Socks
2. Panda Cotton - Menehune Socks
4. Jaywalkers - Opal
5. Artyarns Toe Up - Art Yarns Hand Paint
6. Peppermint Twist - Tofutsies